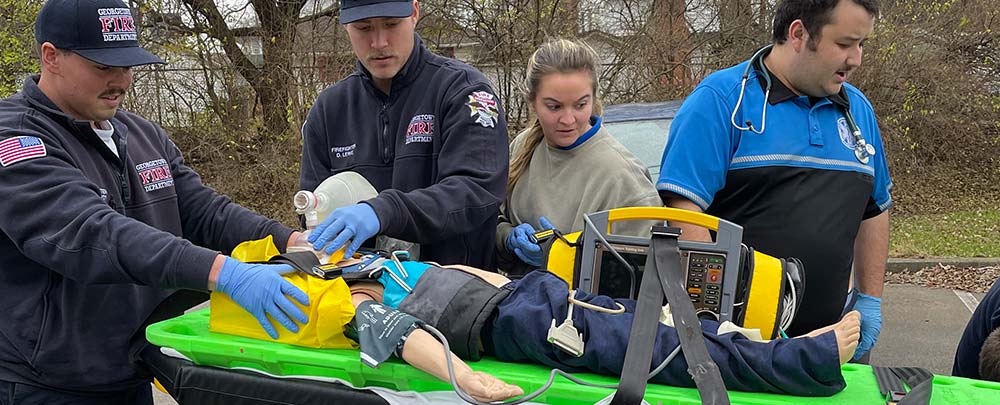 Central Kentucky Paramedic Program
The Central Kentucky Paramedic Program is a partnership between Emergency Medical Training Professionals and Asbury University. This partnership has been formed to give paramedic students the best possible medical education. Paramedic students are strongly encouraged to simultaneously enroll at Asbury University in order to receive 24 college credit hours for this program.
Critical Care Paramedic Training Program
The Central KY Critical Care Paramedic Program has been designed to meet the needs of the critical care transport paramedic working in ground, air or fixed wing environments. The curriculum focuses on advanced level knowledge of Chemistry, Pharmacodynamics and Anatomy & Physiology. The CCT-P program will assist the Paramedic in developing the necessary skills and knowledge to manage critical patients for extensive patient care.
Students will be going in to depth over: Flight Physiology; Lab Data Interpretation; Peripheral and Vascular Access; Hemodynamic Monitoring; Advanced Airway Management; High Risk Obstetrics; Pharmacology; Sepsis & MODS along with many other advanced post graduate paramedic topics. In addition to hands on laboratory experience practicing Advanced Airway skills, Trauma skills including Ultrasound and various multilevel scenarios.
The Central KY Critical Care Paramedic Program is approved by the Kentucky Board of Emergency Medical Services.
Admission Requirements
Kentucky or NREMT Certified EMT
Current AHA "BLS for Healthcare Provider" Certification
High School Diploma or G.E.D
At least 18 years old
Active Driver's License
Two-step TB skin test
Immunization records
No felony convictions
COVID  2 series vaccination
Phase One: Submission of Application, Driver's License, CPR Certification, EMT certification, Proof of High School Education, and $35 non-refundable application fee.
Phase Two: Knowledge Assessment and Interviews.  Up to twenty students per class will be accepted into the program.
Phase Three: Submission of remaining required documents and completion of payment agreement.
The Central Kentucky Paramedic program is accredited by the Commission on Accreditation of Allied Health Education Programs (www.caahep.org) upon the recommendation of the Committee on Accreditation of Educational Programs for the Emergency Medical Services Professions (CoAEMSP).
Commission on Accreditation of Allied Health Education Programs
1361 Park Street
Clearwater, FL 33756 727-210-2350
www.caahep.org