Paramedic Program Desc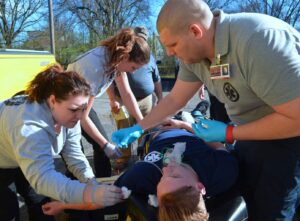 ription
The Central Kentucky Paramedic Program is a partnership between Emergency Medical Training Professionals, Blue Grass Army Depot Fire Department, and Asbury University. This partnership has been formed to give paramedic students the best possible medical education. Paramedic students are strongly encouraged to simultaneously enroll at Asbury University in order to receive 24 college credit hours for this program.
Course Description
This course is the highest level of certification in the training of pre-hospital care professionals. This course is designed to train persons for the occupation of Paramedic. This training is geared for the advanced life support level. The paramedic program is designed to exceed the Kentucky Board of Emergency Medical Services (KBEMS) regulations and the National Registry of Emergency Medical Technicians (NREMT) standards.
The paramedic program is aimed to prepare competent entry-level paramedics in the cognitive (knowledge), psychomotor (skills), and affective (behavior) learning domains.
Course Objectives
Upon completion of this program, the student will:
1. Recognize the nature and seriousness of a patient's illness/injury in order to accurately administer the proper emergency medical care on a EMT-Paramedic level of training.
2. Administer appropriate emergency care based on their training to stabilize the patient's condition.
3. Lift, move, position, and otherwise handle the movement of the patient in such a way as to minimize further injury or illness.
4. Fulfill all written and practical objectives as required by the USDOT National Standards Curriculum.
5. Be eligible to take the National Registry of EMT's Certification Examinations.
Instructional Philosophy:
Learning is self-motivated active process, which is goal-directed, and the responsibility of the individual. This program is divided into
learning units and each student must demonstrate proficiency in all units through punctuality, regular attendance, test scores, and cooperation with instructors and fellow students. We incorporate simulated patients to provide realistic learning opportunities for students. We understand that students going through this course have the added knowledge and experience since many already work in the field as an EMT. We practice our skills not only in the classroom but outdoors and in replicated situations to get practical experience. This fun and unique approach helps our program have one of the highest success rates for students!
Admission Requirements
Kentucky or NREMT Certified EMT
Current AHA "BLS for Healthcare Provider" Certification
High School Diploma or G.E.D
At least 18 years old
Active Driver's License
Two-step TB skin test
Immunization records
No felony convictions
Admissions Process:
Phase One

: Submission of Application, Driver's License, CPR Certification, EMT certification, Proof of High School Education, and $35 non-refundable application fee.

Phase Two:

Knowledge Assessment and Interviews. Up to twenty students per class will be accepted into the program.

Phase Three:

Submission of remaining required documents and completion of payment agreement.
Schedule:
Weekday Program (Meets from 0900-1700 on a rotating 24/48 type schedule for approximately 9 months)
Tuition:
$9,500 ($4,500 non-refundable deposit)
The Central Kentucky Paramedic program is accredited by the Commission on Accreditation of Allied Health Education Programs (www.caahep.org) upon the recommendation of the Committee on Accreditation of Educational Programs for the Emergency Medical Services Professions (CoAEMSP).
Commission on Accreditation of Allied Health Education Programs
1361 Park Street
Clearwater, FL 33756 727-210-2350
www.caahep.org
Students will also need the following:
Paramedic Care Principles and Practice 5th edition (Pearson book) with Mylab access (LINK CAN CHANGE–THIS IS SO YOU SEE IT)
https://www.pearson.com/store/p/paramedic-care-principles-practice-vols-1-5/P100002480437/9780134573014
EMS Testing and Platinum Planner ( bought online first day of class) $97.50 and $85
AHA ACLS (buy online access and book) code is $144. Book– $40 to $45 depending on vendor
AHA PALS (buy online and book) code is $144 Book- $50 to $55 depending on vendor
PHTLS– $125 for book Near end of class
AMLS– $120 for book near end of class
Central Kentucky Paramedic Program statistics:
National Registry Cognitive Exam Pass Rate
2015
2016
2017
2018
2019
# of Graduates
12
11
34
24
21
# of grads attempting
12
15
21
19
17
# passing – 1st attempt
8
9
19
14
12
# passing subsequent attempts
1
0
1
2
14
Total Passing to Date
9
9
20
16
14
NR Psychomotor Exam Pass Rate
2015
2016
2017
2018
2019
# of Graduates
12
11
20
16
17
# of grads attempting
12
10
20
16
17
# passing – 1st attempt
12
10
20
16
12
# passing subsequent attempts
0
0
0
0
14
Total Passing to Date
12
9
20
16
14
Attrition/Retention
2015
2016
2017
2018
2019
Total Students Enrolled
14
15
34
24
21
# of students dropped out (attrition)
2
4
6
5
4
% attrition
14%
26%
18%
20.8%
19%
% retention
86%
73%
82%
79.2%
81%
Positive Placement
2015
2016
2017
2018
2019
# of Graduates
12
11
20
19
17
# of Graduates Employed in Relevant Field
12
9
18
16
14
# of grads continuing education or serving in military, but NOT employed
0
1
0
1
0