Medical Administrative Assistant (CMAA)

A Clinical Medical Administrative Assistant is the front-office staff that ensures medical offices operate efficiently while also promoting a friendly and positive patient experience. While having an interest in the health care system, a Medical Administrative Assistant does not interface directly with patient care, rather they greet patients, organize appointments and provide other varying assistance.
Course Description
Emergency Medical Training Professionals Medical Administrative Assistant program enables students to gain National Healthcareer Association (NHA) certification. We will prepare you for entry-level positions as medical administrative assistants in a variety of health care settings. Graduates of our program receive the necessary training in:
Review and answer practice correspondence
Operate computer systems or other types of technology to accomplish office tasks
Answer calls, schedule appointments, greet patients, and maintain files
Update and maintain patient and other practice-specific information
Coordinate collection and preparation of operating reports such as time and attendance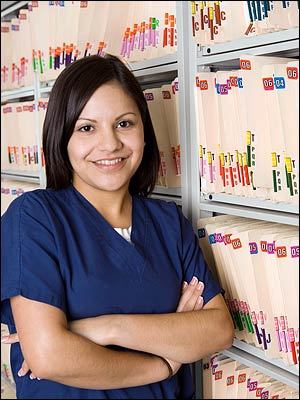 For more information regarding NHA certification (including study materials), click here.
Admission Requirements
High School Diploma or GED
Recent TB skin test
Schedule:
Online Program (Approximately 15 weeks online, on-campus NHA examination)
Required Textbook:
Job Outlook
The U.S. Bureau of Labor Statistics categorizes medical administrative assistants with medical secretaries, and anticipates that growth in the coming years, with a projected 27% employment increase between 2008 and 2018. The agency attributes these rising numbers to the overall growth of the healthcare industry, which continues to generate new jobs.