Dental Assistant

Dental Assistants are an integral part of the dental team and help to keep the office running smoothly and successfully. Under the supervision of dentists, Dental Assistants are responsible for a wide range of tasks in the dental office, ranging from patient care to administrative duties to laboratory functions. The dental assistant position is the most flexible and varied in the dental office and requires a diverse set of skills: clinical, clerical, interpersonal, technological and more.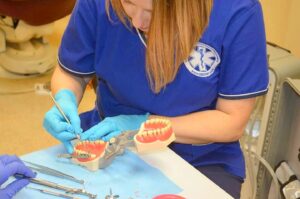 Dental Assisting is the perfect career choice for someone who wants to be in the dental field and in patient care. Upon completion of our Dental Assisting Program, you will have the knowledge and skills to start your career as a Dental Assistant.
EMTP Dental Assistant Program
Our Dental Assistant Program consists of 179 hours of classroom instruction and hands-on skills as well as 120 hours of externship. Unlike other programs, here at EMTP you can get certified in as little as a few months and for a fraction of the cost of traditional colleges. Graduates of our program receive the necessary training in:
Collecting and reviewing patient medical/ dental health histories
Taking and recording vital signs
Patient instruction and education
Working with the dentist during exams and procedures
Dental Assisting Standard Program includes three separate parts:
Basic Dental Assisting
Expanded Duties Dental Auxiliary
Dental Radiology
Stand Alone Components
Basic Dental Assisting:  Eighteen (18) class days
Expanded Duties Dental Auxiliary: Five (5) class days
Dental Radiology: Two (2) class days
Weekday and Online hybrid options available.
What's Included in your dental assistant tuition?
CPR Certification
Radiology Certification
Expanded Duties Certification
HIPAA Training & Certification
HIV/ AIDS Bloodborne Pathogens Course & Certification
Lab Supplies
1 (one) EMTP Identification Card
Student Liability Insurance
General Admissions Requirements
High School Diploma/ GED
2 step TB Skin Test
Driver's License