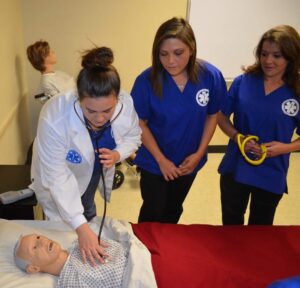 Medical Assistant Course Description
Emergency Medical Training Professionals can turn your caring personality and interest in healthcare into a career as a Certified Clinical Medical Assistant (CCMA). Serving important roles on medical teams, medical assistants work alongside doctors during patient examinations and procedures.
With our Clinical Medical Assistant program, you can gain the skills you need to start working as a medical assistant in just weeks – NOT years! You'll receive the focused career training you need to confidently work in a medical setting, working with patients and completing various medical office tasks each day.
Typical duties of a CCMA include:
Collecting patients' medical histories
Working with physicians during exams and procedures
Administering injections, as well as topical or oral medications
Taking blood samples and specimens
Sterilization of equipment
Recording patient vital signs
Explaining exams and procedures to patients
Performing some administrative duties
The CCMA program is comprised of this core course, Clinical Medical Assistant, plus two additional courses, EKG Technician, and Phlebotomy Technician. Upon successful completion of all three of these courses and the clinical requirements, each student will receive a course completion certificate and be eligible to sit for the three (3) National Healthcareer Association (NHA) exams at the EMTP facility. Once the student successfully completes all three (3) exams he or she will be a Nationally Certified NHA EKG Technician, Phlebotomy Technician, and Certified Clinical Medical Assistant. Ready to start an exciting new career as a CCMA. For more information regarding NHA certification (including study guides) click here.
Admission Requirements
High School Diploma or GED
Recent two-step TB skin test
Schedule:
Day Program (32 hours per week )
Night Program (12 hours per week)
Online Program (Complete work at home and meet on campus for lab days)
Required Textbook for CMA Component
What is included in my tuition?
Student Liability Insurance
CPR certification
HIPAA Training & Certification
HIV/AIDS Bloodborne Pathogens Training & Certification
Lab supplies
Student Identification Card
Job Outlook
Graduates of our CCMA program can find careers in a variety of medical settings from hospitals, doctor's offices, and clinics to working with medical specialists. According to the U.S. Bureau of Labor Statistics, the average hourly wage for medical assistants was $14.31/hr. Additionally, those who held the CCMA designation received hourly wages up to $17.33/hr. Salary increases with the level of experience for the CCMA. The U.S Bureau of Labor Statistics projects a 34% increase in the demand for CCMAs between 2008 and 2018, making this professional field one of the fastest growing occupations in the US.
Effective Monday, March 16 2020 The EMTP team made the decision to move our classes to online instruction for the next few weeks.  Tentatively we will resume our normal schedule Monday, March 30th.  Our office will continue to be open Mon-Fri and we will continue enrollment as usual.